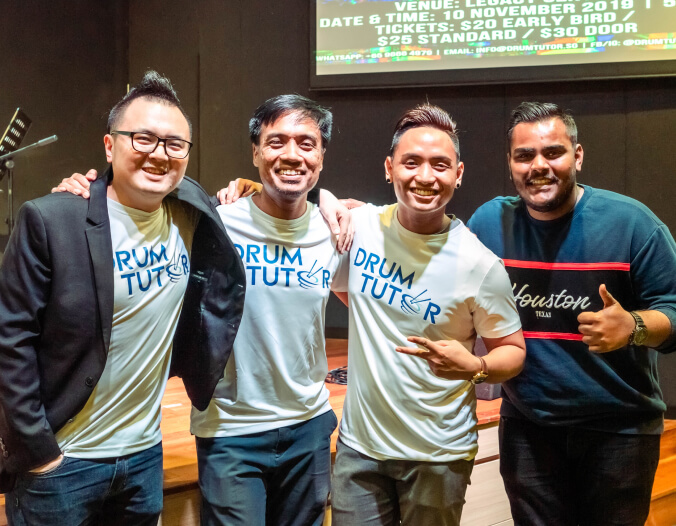 Drum Tutor offers an extensive and engaging drumming programme that caters to both kids and adults through its own curriculum for students across all levels. Conceptualized by award-winning drummer Er Chow Kiat, the lessons are solely based on the pace of the student's learning ability whether is it learning a new song, working on grading examination materials or breaking down a certain groove or rhythmic pattern.
Perks of being a student at Drum Tutor
Drum Tutor's curriculum is planned and written by our founder and creative partner, Er Chow Kiat.
His education at Musicians Institute (Hollywood, CA, U.S.A.) has enabled him to craft out a structured lesson plan that is fun, challenging and yet contemporary at the same time.
Students are ultimately taught to serve the music and not just to focus on the technical aspect of drumming.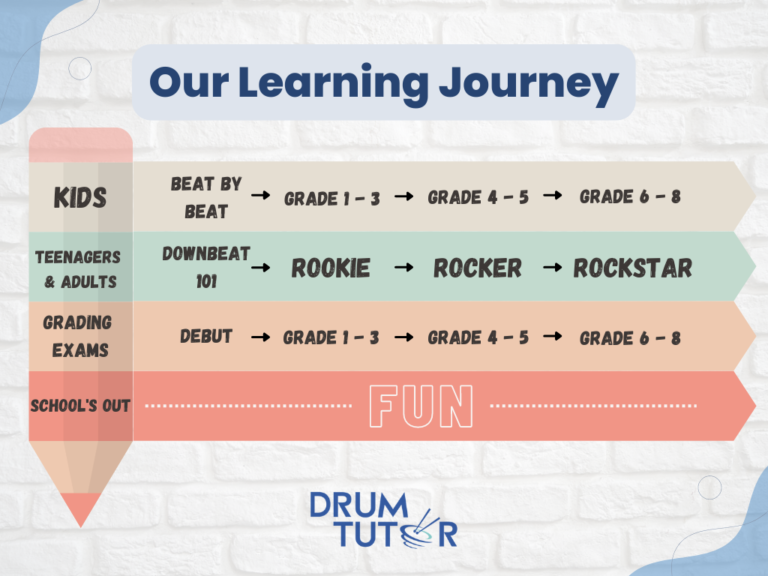 We believe that excellent equipment is essential to every student's learning experience.
Studio 1 and 2 are equipped with
Studio 3 is equipped with
Drum Tutor Concept @ orchardgateway is the first 'silent music school' in Singapore where electronic drums (comprising drum and cymbal pads made of rubber or mesh, and headphones) are used for teaching and learning, and sounds will only come through headphones, and not speakers or amplifiers. Benefits of electronic drums includes hearing and mental health, and a great innovative learning experience.
Studio 1 is equipped with
Studio 2 is equipped with
Studio 1 and 2 are equipped with
Studio 3 is equipped with
Student's logbook will be updated weekly by their tutor via our very own Online Student Portal system.
Students can log on to their personal account to monitor their progress, review previous week's lesson(s) and also check their homework for the up-coming week.
Customised Song Transcription
Ever wanted to learn a song but you can't seem to find the music notation on the internet? 
We provide customised song transcription services to all of our students who wishes to play to their favourite songs or songs from their favourite artist/band.
*Please note that the tutor will recommend and select song(s) based on the student's playing ability.
Students can request for their playing to be video recorded after every song/piece learnt.
This way, students can evaluate their:
• Technique (grip)
• Body Posture
• Sound
*Please check out our Instagram handle @drumtutor.sg for more videos of our student's playing.
Performing publicly allows students to develop their confidence, self-esteem and creativity.
Over at Drum Tutor, we organise in-house recitals and showcases for our students at least once a year.
*Students who are keen to perform may express interest with their respective tutor.
** Recitals are postponed till further notice due to COVID-19.
Discount On Drum Equipment
Students of Drum Tutor will get to enjoy special discounts on:
• Drum kits (acoustic and electronic)
• Cymbals
• Drumsticks
• Accessories
• Masterclasses
*Please check out our Instagram handle @drumtutor.sg for more videos of our student's playing.